All Born (In) Conference
Register Now for All Born (in) 2016 Cross-Disability Best Practices Inclusion Conference
Saturday, April 23rd, 2016 • Holiday Inn Portland Airport
Featuring 35 sessions for parents, teachers, and professionals. This year's keynote speakers are Keith Jones, musician and self-advocate, and Dr. Richard Villa, inclusive education advocate.
---
Keynote Speakers announced for All Born (in) 2016 Conference
Keith Jones is an artist, musician, and father who experiences disability and addresses the intersection of race and disability.
Dr. Richard A. Villa has worked with thousands of teachers and administrators throughout North America and the world to develop and implement organizational and instructional support systems for educating all students within general education settings. 
---
All Born (in) 2016 Sponsors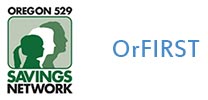 Thank you to the All Born (in) Conference Coalition & Steering Committee
Thanks to Jared Holmgren Photography www.jaredholmgren.com • Jodi Collins www.urban-photography.com • Generous contributions and in-kind support of speakers and numerous others. A special thank you to the Universal Design for Living and Learning Coalition.
Are you interested in sponsoring this event? Contact Angela Frome 503-238-0522
---
All Born (in) 2015 Conference
For the last decade, we've experienced the joy of watching the All Born (in) movement grow and expand to include more parents, educators, community leaders, self-advocates, and volunteers each year. The 10th Annual All Born (in) Conference on May 2nd brought together more participants than ever before, with over 500 people in attendance sharing inspiration and ideas towards building a more inclusive world. The efforts of a great many partners and volunteers working alongside us made the day possible.
Behavior specialist David Pitonyak started off the day with a thoughtful keynote speech about the importance of belonging and the neurological effects of loneliness. The lunchtime keynote presentation featured a panel of educators and policymakers – Jenny Stonemeier from TASH, Rob Saxton, Deputy Superintendent of Public Instruction in Oregon, and Ricki Sabia from the National Center and State Collaborative shared thought-provoking ideas about UDL and their passion for inclusion. The final keynote speech from self-advocate Eric Matthes ended the conference on an inspiring note about the power of perseverance and support to make employment dreams come true.
Throughout the day were 35 challenging, informative, and empowering workshops ranging from early childhood, through school age and into transition. We are grateful to have the privilege of hosting so many talented presenters and such a wide variety of voices. The theme of this year's conference is "All Means All" –a philosophy that's not only true for children and young adults in schools and communities, but also true for the parents, educators, and policymakers who must work together to achieve the vision of a civil inclusive society. The ABI Conference will continue to bring families and professionals together to collaborate and converse for years to come.
Some thoughts from participants in the 2015 ABI Conference:

"Last year I came home and held my baby like I never had. This year when I came home I held him in a different way. Instead of holding him tight I lifted him up!"

"Powerful to be in a room with like-minded people. Wow! Wish I'd found you years ago."

 "Speakers and participants walk the talk!"

"So many takeaways and aha moments!"

"Great ideas, tech resources and other resources that I can bring back to my practice in the schools."

"Very insightful, clear and inspiring."
---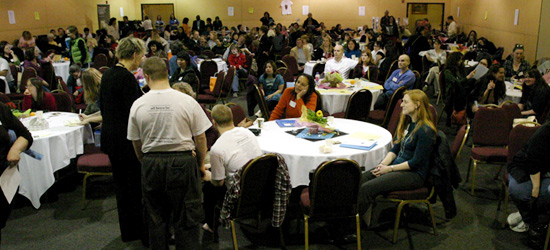 Inspiring the courage to reach and teach all of our children; Best practices to support equity and success.
This is an exciting day for parents, caregivers, and professionals working to end segregation in neighborhood schools and the community. Come celebrate and learn how we can use Universal Design for Learning and Best Practices to reach and teach every child. Share, learn and make connections so that we can all go forth to open the eyes of the wider community to the fact that our children are all born "in".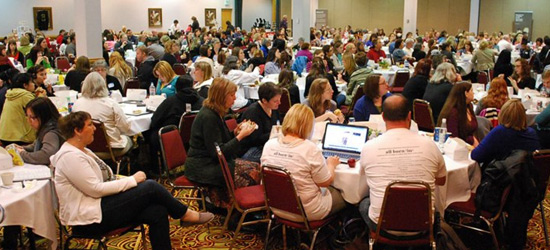 What is All Born (In)?
All Born (In) is a movement in pursuit of an inclusive civil society. A sister project of the NWDSA, ABI seeks to end segregation and promote true choice and the inclusion of individuals with disabilities in our schools and communities. The ABI Conference was founded by the NWDSA in 2006 in partnership with Portland State University's joint certification program and the Center on Inclusive Education. It has grown to be a cornerstone resource in the Northwest region, engaging many innovative parents, professionals, and community partners to embrace the gifts of every learner. Conference directors Angela Jarvis-Holland and Angela Frome lead a steering committee of dedicated parents and professionals to plan and execute the 2014 ABI Conference.
Questions? Contact Angela Frome 503-238-0522.
---
All teachers, all students, all born (in)
"Disability is a natural part of the human experience that does not diminish the right of individuals with developmental disabilities to enjoy the opportunity to live independently, enjoy self-determination, make choices, contribute to society, and experience full integration and inclusion in the economic, political, social, cultural, and educational mainstream of American society." Developmental Disabilities Assistance and Bill of Rights Act.