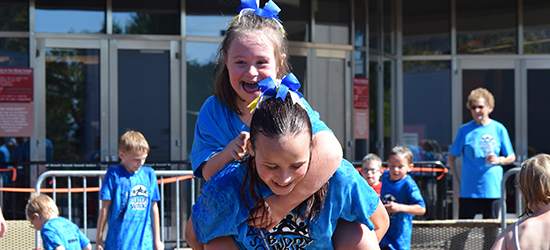 18th Annual Portland Metro & SW Washington
Buddy Walk® Festival
Saturday Sep 24, 2016, 10 AM - 1 PM
Rose Quarter Commons, Main Ampitheater & Center Court
Online registration is now closed. You can still register at the event.

Donations to support teams or the event can still be made online!
---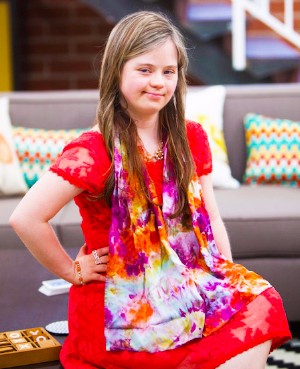 Special Guest Speaker Megan Bomgaars
You might remember Megan from her viral video 'Don't Limit Me" which garnered international attention, or from her role on the hit TV show Born This Way. Megan is a young woman with big dreams and great talent. As a design artist she creates original, one-of-a-kind textiles and fabrics for her company MEGOLOGY. She is an entrepreneur, self-advocate and role model. She speaks at events and conferences all over the country. We are so excited to welcome Megan to our Buddy Walk Festival!
The top fundraising team will win the opportunity to walk with Megan!
Kid's Pledge Challenge
The top 3 pledge collecters who are age 18 and under will win a Voodoo Doughnut Gift Certificate and get a spot at the front of the line for a photo op with Megan Bomgaars!
To qualify for prizes, teams must submit donations to NWDSA by Sept. 22nd. Donations collected for your team after Sept. 22nd are greatly appreciated and can be turned in at the walk, mailed, or made online—they will not count towards prize totals.
Downloadable Forms
Download & print the Registration Form
Download & print the Donation Collection Form
---
---
Schedule of Events
10:00 AM-10:20 AM  Registration opens, festival begins, Newell Briggs performs. Silent auction and raffles open.
10:20 AM-11:00 AM  Family entertainment begins!
11:00 AM-11:30 AM  Opening remarks from Steve Holland and NWDSA staff, Spanish welcome from Isis Alvarado, remarks from our keynote speaker and parent representative.
11:30 AM-12:00 PM  Gather for GROUP PHOTO and kick off the accessible walk around the Rose Quarter!
12:00 PM-12:30 PM  Lunch begins, Tony Starlight and his band performs!
12:30 PM-1:00 PM  Raffle drawings begin, Tony and his band play, more raffles are drawn.
1:00 PM-1:30 PM  Silent Auction closes.  Festival wraps up!  
---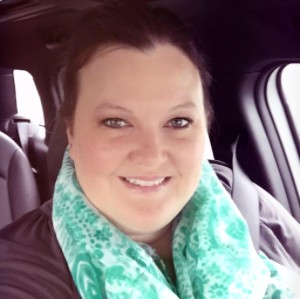 We are excited to welcome Susan Hiler as our new 2016 Portland Metro & SW Washington Buddy Walk Chair!
Susan resides in SW Portland with her wife, Anne. Susan received her BA in Communications and Political Science from Linfield College, and her law degree from Willamette University College of Law. She has practiced family law in both Idaho and Oregon. Her niece, Lorraine, was born with Down Syndrome when Susan was living in Boise, Idaho and their family began participating in the Buddy Walk together. When she moved back to Portland, Susan wanted to continue learning from and empowering people with Down Syndrome.
Susan is driven by her belief that diversity and inclusion make us all better. After attending the All Born(in) Conference she decided to shift her focus from practicing law to working with NWDSA and using entrepreneurship to empower others.
She is chairing the Portland/SW Washington Buddy Walk committee and looks forward to her growing relationship with NWDSA.
---