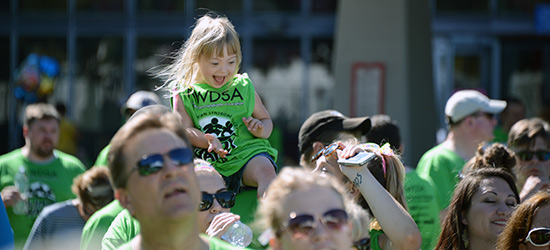 The 17th Annual Official Portland Metro & SW Washington Buddy Walk® Festival
Saturday Sep 19, 2015, 10 AM - 1 PM
Rose Quarter Commons, Main Ampitheater & Center Court
REGISTER NOW
The 17th annual Portland Metro & SW Washington Buddy Walk® Festival promises to be bigger and better than ever! Join us for live music and family entertainment, games and bounce houses, auctions and raffles, and tasty food and snacks. Hear from amazing self-advocates and connect with empowered families from across the Portland Metro region and beyond. If you can't be with us on the day, register as a virtual walker or make a donation in honor of the people in your life who experience Down syndrome.
If you are unable to register online, you can download, print, and mail the sign-up form:
Buddy Walk Brochure in English (PDF) | Buddy Walk Brochure en Espanol (PDF)
Buddy Walk Speakers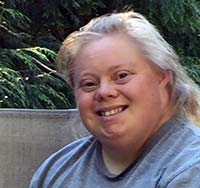 Linnea Goranson is 34 years old and lives in Portland, Oregon. She attended Portland Public Schools and was fully included in classrooms with students who treated her just like a regular student. Her school experience was a challenge but she graduated with a standard diploma! Linnea has worked at Portland State University since 2000.  

---
Top 5 Reasons to Sign Up for Buddy Walk
#5 Jedis, Elsa, and pirates!
Use the force, let it go, and walk the plank! This year, we're excited to welcome Elsa & Anna from the movie Frozen, as well as a visit from the swashbuckling pirates of PDX Yar. Our friends at Cloud City Garrison (Star Wars), Hooperville USA, and Central Catholic Cheerleaders are joining us again this year.

#4 The Smoooth Sounds of the Seventies
In addition to serving as Buddy Walk emcee for the fifth year, Tony Starlight will be joined by members of his AM Gold band to perform soft rock dance favorites from the AM dial.

#3 Fabulous Raffle & Silent Auction Prizes!
Everyone looks forward to the raffle and auction, and this year we're loaded up with prizes including bicycles, games, vacations, gift baskets, wine, chocolate, beauty packages, donuts, and tons more!

#2 Fun, Food & Games!
Bounce castle, face painting, balloons, games and activities, and free lunch, coffee, ice cream, and more fun and goodies than you can shake a stick at! 

#1 Supporting the NWDSA means supporting your community!
Proceeds from this event help provide information, education, and support to many individuals and families across the Portland Metro & SW Washington areas. 

---
Schedule
10:00 AM Registration begins. Live music, Games and activities, Raffle and silent auction begins
10:15 AM Optional prayer circle
10:30 AM Fit4Mom optional family stretch
11:00 AM Festival opening remarks and welcome in Spanish, Keynote speeches
11:30 AM Accessible Walk around Rose Quarter kicks off
12:00 PM Lunch, Live music, games
12:30 PM Raffle and silent auction end, Winners announced
1:00 PM Closing remarks and wrap-up
---
2014 Buddy Walk
Our 2014 Portland Metro and SW Washington Buddy Walk Festival was NWDSA's largest walk yet, with 2,000 participants showing up to build community with friends, family, and colleagues in support of our loved ones with Down syndrome. Self-advocates Rachel Esteve and Daniel Jarvis-Holland spoke eloquently and movingly about their dreams and goals. Live music, salsa dancing, balloon art, bounce house, slides, games, good eats, auctions and raffles and fun all around made this sunny, warm day in Portland unforgettable.
---
2013 Buddy Walk
---
The History of NWDSA and Buddy Walk®
Our first year, a small group of parents chartered a bus and loaded up vans with participants and drove to Salem to walk along with the Willamette Valley Down Syndrome group. There were roughly 100 participants at NWDSA's first walk. The event has since been moved to the Rose Quarter and the number of participants has grown every year, becoming more than just a walk but a celebration and festival.
Many of the attendees are either family members or friends of individuals in our community who have Down syndrome. Our goal is to continue to grow and reach outside our families to celebrate the wonderful gifts of our larger diverse community and provide a place for people to connect and celebrate together.
In addition to the walk around the Rose Garden arena area, we traditionally feature: face painting, games, hula hooping, balloons, gift bags, live music, inspirational speakers, and a silent auction and raffle.
The funds raised from the event go back into the community to support the following activities of the NWDSA:
· Family socials
· Summer Social
· Open Arms Playgroups
· Mini-grants for parents
· Reciprocal Learning Community events
· New Parent Guide
· Spanish translation services
· Public policy and advocacy work
· Our website www.NWDSA.org
· New Parent Outreach and phone support
The goal of the NWDSA is to grow the Buddy Walk and make it better each year - better in the sense of bringing more families and friends together, and providing a focused day of celebration that we can all feel good about. The NWDSA is a group of parents who share a passion for helping their children and families not just cope but thrive. We volunteer our time to help individuals with Down syndrome lead better lives.
---