New / Expectant Parents
You may have recently had a test and your doctor or geneticist has told you that the baby you are expecting has Down syndrome. You may have recently given birth to a baby that has Down syndrome. Whatever your circumstances, we have been there, and know the kinds of feelings and thoughts you are having, because we had them too.
Rest assured, you are not alone. There are other parents in your community, possibly right in your own neighborhood, who have a child with Down syndrome, and would be grateful to talk with you and share your thoughts and concerns. On this page are the names and numbers of parents who are happy to talk with you.
This page contains resources that we have carefully selected to share with you because believe that the support that you receive in the earliest days are vitally important. Together with local partners, we work to provide families with reliable and supportive resources and a community that celebrates all children, and empowers parents to be strong informed advocates for their children and to always be parents first!
You may not be ready to talk with other people right now, and that is totally understandable. You may not even want to read or know anymore more right now about Down syndrome, so you can bookmark this page and come back to it later if you want. It's entirely up to you.
---
New Parent Guide
The New Parent Guide is a production of the NWDSA. We are very pleased to be able to provide this resource to new parents, as well as to friends, families and medical professionals. Our goal is to provide useful information about Down syndrome and most importantly to share the joys, challenges, and experiences of raising a child with Down syndrome.
If you are a new or expectant parent of a baby with Down syndrome, Click here to request a New Parent Guide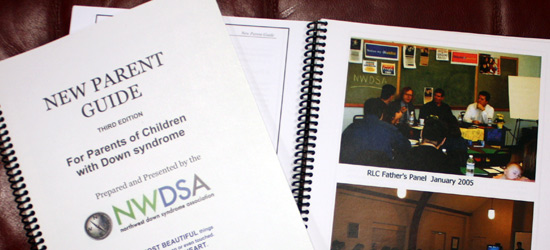 ---
Healing Hearts booklet
Healing Hearts: Families' Experiences with Down Syndrome and Heart Surgery is a unique, parent-driven resource featuring first-hand stories of nurturing a child with Down syndrome through open heart surgery and recovery, including answers to common questions, guidelines for choosing a cardiac care center, glossary of terms, helpful resources, and information curated with input from pediatric cardiologists.
Request a copy of the Healing Hearts booklet
If you are the parent of an infant or toddler with Down syndrome preparing for heart surgery, Click here to request a copy of the Healing Hearts booklet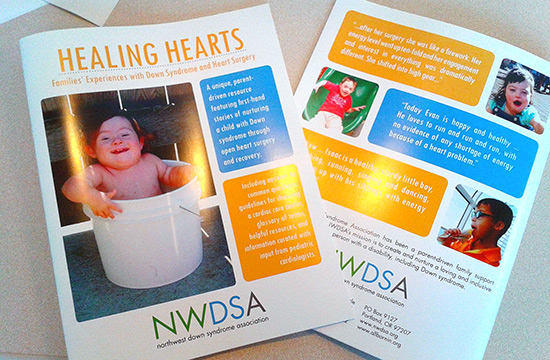 ---
Open Arms Play Groups
Open Arms is a parent-driven play group for children birth through five with Down syndrome and their families, held once a month in Portland and Vancouver. Click here for more information on location and schedules.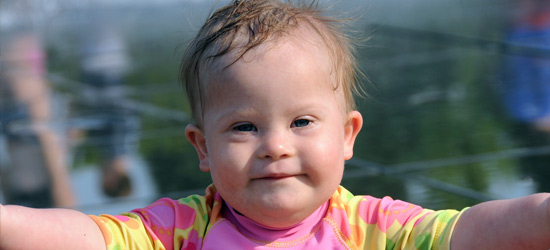 ---
Parent / Guardian / Family Member of School Age or Older Child
As our children grow from little babies to toddlers and students, we as caregivers find ourselves continually learning about next steps we can take to support them on their journey to adulthood. While some of the urgency of learning how to care for your little one begins to dissipate, it is still vital that you as a parent are informed and empowered about the best way to support your child follow his or her dreams for a full, rich, inclusive life.
With the expertise of "veteran parents" in our community and the input of many advisers in the fields of education, wellness, medicine and adult supports, the NWDSA is a great resource whether you are navigating your first IEP or looking at the transition out of high school and into adulthood. The All Born (In) Movement is the home base for the NWDSA's inclusion work, and we encourage you to visit allbornin.org to learn more about the programs offered, from the All Born (In) conference to the Kindergarten Cohort.
In addition to the All Born (In) work, we currently offer the Club Upside Open Gym on the 2nd Saturday of every month, and all ages recreational activity for families of children with Down syndrome and other disabilities. Siblings are welcome at this event, a great chance to connect with other families and blow off some steam.
The Family Socials held every summer and every December are another great chance to connect with old friends and new, and the Buddy Walk is fun for the whole family!
You can find a schedule of events, activities and drop-in hours on our Event Calendar.
---
The NWDSA Resourcefulness Center
The Resourcefulness Center is a place where families can come to meet other parents, explore our resource library, and connect with the community. There is always a warm cup of tea at the ready, and a place for children to play. Click here to learn more about the Resourcefulness Center, and to view map and directions.
---
Reciprocal Learning Community Events
RLC events are quarterly trainings held on a Saturday morning for parents of young children with Down syndrome. Parents of children with Down syndrome, along with the assistance of an advisory board of professionals, plan each RLC session using best practices and the most current research. The RLC recognizes the importance of parents and professionals working together to help children with disabilities. The sessions are interactive, and participants have the opportunity to ask questions, provide feedback and get involved. At the end of the formal session we share a lunch and have time to network and build community with other families. Click here for more information on the RLC program, and to check the date of the next session.
---
News & Articles for Parents & Family Members