October is National Down Syndrome Awareness Month! 
It's the perfect opportunity to share knowledge, advocacy, and inclusion throughout your community. During the month of October, we celebrate individuals with Down syndrome and make people aware of their abilities and accomplishments.
Help NWDSA and the community by drinking coffee!
Rose City Coffee Company is collaborating with FickleZeal Photography to heighten awareness and appreciation of Down syndrome this month! In addition to sharing FickleZeal's awareness photo campaign at their coffee shop throughout the month of October, Rose City Coffee Company is giving 100% of proceeds from their Winter Blend Special Label roast to the NWDSA. You can find this find roast at their coffee shop located at 7325 SE Milwaukie Ave, Portland, in local retailers, and online. Look for the blue label! 
---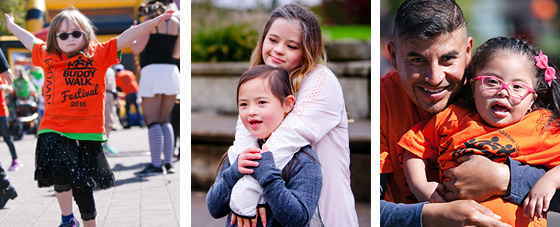 We are so pleased with the attendance and support given to the 18th Annual Portland Metro and SW Washington Buddy Walk Festival! It is such an important day of celebration for us and our wider community, and it's also our largest fundraiser of the year and supports programs and activities for local families throughout the coming year. Buddy Walk donations will be accepted online through the end of October.
Thanks to our guest speaker Megan Bomgaars.
Thanks to the 2016 Buddy Walk Sponsors
Latitudes • Rose City Sound • Campbell Global • Key Event Services • Image Pressworks
Lawyers Title • Wells Fargo • Brown & Brown • The Children's Clinic • XAG • Widmer Bros.
Harmony Dental • Barren Liebman • Ficklezeal Photography • Windermere Real Estate
Lithtex • Parties Inc • Dreyer's • Gevurtz Menashe • Ruby Red Bookeeping • Urban Nest Realty
---
Welcome to the Northwest Down Syndrome Association
The NWDSA has been a parent-driven family support network since 1997. The NWDSA's mission is to create and nurture a loving and inclusive community celebrating every person with a disability including Down syndrome.
The NWDSA/ABI will accomplish this mission by empowering and supporting families and individuals who have been touched by developmental disability. Together with our cross-disability sister project, All Born (In), founded in 2006, we will work to increase education, promote public understanding and acceptance, work toward full inclusion, and defend the civil rights of individuals with Down syndrome. Our vision also embraces professionals and the cross-disability community. Our statement of values is the core of our organization and the basis for how we make decisions to support our mission.
We believe that relationships are the cornerstones of our organization and that they should be both honored and nurtured.
---
Featured Upcoming Events, Trainings & Workshops
---
Latest NWDSA News & Articles
Abby Braithwaite

There were many false starts as she remembered the tricks she'd learned, and remembered to trust her mother, but in time we made it to the park. And let me tell you, that was one proud little girl.

The Northwest Down Syndrome Association kicked off its annual Bike First camp Monday, giving children with disabilities another way to have fun this summer.

We are excited to welcome Susan Hiler as our new 2016 Portland Metro & SW Washington Buddy Walk Chair!
---
Latest Action Alerts
The U.S. Department of Education and the U.S. Department of Health and Human Services are proposing to release a policy statement on inclusion of young children with disabilities in high-quality inclusive early childhood programs. It is the purpose of this blog to request comments on the proposed statement. Please review the attached draft policy statement and provide comments no later than 6:00pm EDT, Friday, May 22, 2015.

Looking to maximize your investment in NWDSA? Please check if your company offers a corporate match program and/or an employee giving program.

Ethan Saylor was a 26 year old man with Down Syndrome who died in the custody of three off-duty Frederick County Deputy Sheriffs on January 12th, 2013. His family has created a petition calling for an independent investigation.
---
Latest Advocacy News & Articles
"Going into this camp, I thought social justice was only about helping people who can't help themselves…but I learned that it is so much more. In order to create social justice, we have to start with ourselves." – James, 2016 Social Justice Youth Summer Camp Participant

For the first time in Oregon, individuals with intellectual disabilities will have access to an inclusive postsecondary education at a four-year university, thanks to the efforts of Think College Inclusion Oregon, Northwest Down Syndrome Association/All Born (in), and Portland State University.

In January 2012, attorneys from DRO filed a class-action lawsuit against the state of Oregon, contending that its use of "sheltered workshops" violates the Americans with Disabilities Act by segregating people with disabilities from the workforce.