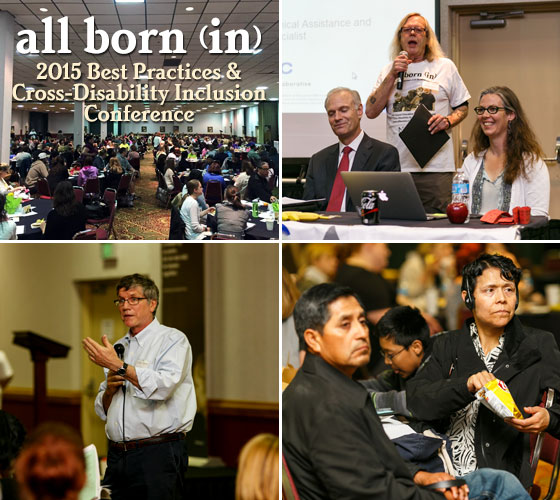 For the last decade, we've experienced the joy of watching the All Born (in) movement grow and expand to include more parents, educators, community leaders, self-advocates, and volunteers each year. The 10th Annual All Born (in) Conference on May 2nd brought together more participants than ever before, with over 500 people in attendance sharing inspiration and ideas towards building a more inclusive world. The efforts of a great many partners and volunteers working alongside us made the day possible.
Behavior specialist David Pitonyak started off the day with a thoughtful keynote speech about the importance of belonging and the neurological effects of loneliness. The lunchtime keynote presentation featured a panel of educators and policymakers – Jenny Stonemeier from TASH, Rob Saxton, Deputy Superintendent of Public Instruction in Oregon, and Ricki Sabia from the National Center and State Collaborative shared thought-provoking ideas about UDL and their passion for inclusion. The final keynote speech from self-advocate Eric Matthes ended the conference on an inspiring note about the power of perseverance and support to make employment dreams come true.
Throughout the day were 35 challenging, informative, and empowering workshops ranging from early childhood, through school age and into transition. We are grateful to have the privilege of hosting so many talented presenters and such a wide variety of voices. The theme of this year's conference is "All Means All" –a philosophy that's not only true for children and young adults in schools and communities, but also true for the parents, educators, and policymakers who must work together to achieve the vision of a civil inclusive society. The ABI Conference will continue to bring families and professionals together to collaborate and converse for years to come.
Some thoughts from participants in the 2015 ABI Conference:

"Last year I came home and held my baby like I never had. This year when I came home I held him in a different way. Instead of holding him tight I lifted him up!"

"Powerful to be in a room with like-minded people. Wow! Wish I'd found you years ago."

 "Speakers and participants walk the talk!"

"So many takeaways and aha moments!"

"Great ideas, tech resources and other resources that I can bring back to my practice in the schools."

"Very insightful, clear and inspiring."
Our heartfelt thanks to our sponsors: Kaiser Permanente Community Fun, Grow the Good, David Douglas School Douglas, Meyer Memorial Trust, Oregon Council on Developmental Disabilities, Portland Public Schools, The Standard, Concordia University, Becker Capital Management, West Linn Wilsonville School District, Clark County Washington, Latitudes, Life Works, Community Vision Inc, OrFIRST, Multnomah County, Oregon Health & Science University, United Cerebral Palsy, TASH, Multnomah Education Service District, Northwest Health Foundation, Oregon Health Authority
And a special thank you to everyone who took the time to share their thoughts about belonging in our ABI video booth. So many unique and wonderful stories and ideas were captured and we are looking forward to compiling them into a powerful, fun piece of video.
---

Annual NWDSA Summer Social
Camp Angelos, Jul 19, 2015
RSVP now


Portland Metro & SW WA Buddy Walk
Rose Quarter Commons, Sep 19, 2015
Register now
---
The NWDSA has been a parent-driven family support network since 1997. The NWDSA's mission is to create and nurture a loving and inclusive community celebrating every person with a disability, including Down syndrome.
The NWDSA will accomplish this mission by empowering and supporting families and individuals who have been touched by Down syndrome. We will work to increase education, promote public understanding and acceptance, work toward full inclusion, and defend the civil rights of individuals with Down syndrome. Our vision also embraces professionals and the cross disability community. We believe that relationships are the cornerstones of our organization and that they should be both honored and nurtured.
The NWDSA mission and values are the north star of our organization, and guide us in our work to build a community of informed, empowered parents. Read the NWDSA statement of values.
While our roots are as a Down syndrome organization, our work around inclusive schools and communities embraces all learners. In 2005, we started our All Born (In) Cross Disability work. Visit the NWDSA's sister site, AllBornIn.org to learn more about the All Born (In) cross-disability inclusion movement.
---
Latest NWDSA News & Articles
In the end Down syndrome doesn't define our daughter nor does it define us as parents.

Northwest Down Syndrome Association/ABI is incredibly honored and excited to be one of the KPCF Funded Partners.

We are all different races, sizes and ages but a community is one big family.
---
Latest Action Alerts
The U.S. Department of Education and the U.S. Department of Health and Human Services are proposing to release a policy statement on inclusion of young children with disabilities in high-quality inclusive early childhood programs. It is the purpose of this blog to request comments on the proposed statement. Please review the attached draft policy statement and provide comments no later than 6:00pm EDT, Friday, May 22, 2015.

Looking to maximize your investment in NWDSA? Please check if your company offers a corporate match program and/or an employee giving program.

Ethan Saylor was a 26 year old man with Down Syndrome who died in the custody of three off-duty Frederick County Deputy Sheriffs on January 12th, 2013. His family has created a petition calling for an independent investigation.
---
Latest Advocacy News & Articles
Reach 2020 would shift resources to integrate students (Portland Tribune)

When she was just 11, Katie said to her mom over breakfast one morning, "Mom, I want to go to high school, then college, get a job, and have a wedding."

The ADA: Moving Forward event at Portland City Hall on July 26, 2013 celebrated the 23rd anniversary of the signing of the Americans with Disabilities Act.