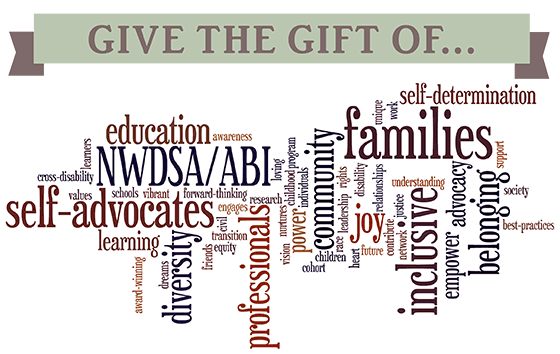 NWDSA/ABI creates and nurtures a loving, inclusive community that celebrates every person with a disability, including Down syndrome.  We thank each and every person, foundation, business and partner organization who has supported us in 2014 with a donation of time, talent and treasure. We ask for your continued support at year-end, and in 2015, as we continue to support over 1600 families as well as hundreds of professionals and policymakers in the Portland Metro/SW Washington area and beyond.
To make a tax-deductible gift today, please visit www.nwdsa.org/donate or mail your donation to: NWDSA/ABI, PO Box 9127, Portland, OR 97207
Your Gift Supports...
Vibrant Community is vital for families to find strength in unity and to embrace a vision of potential and hope. NWDSA/ABI new parent outreach, socials, playgroups, Reciprocal Learning Community, and Promotores Hispanic Leadership Cohort help establish strong bonds within the community.
Empowered Families & self-advocates are equipped to grow into their advocacy and create inclusive communities where everyone belongs.
Inclusive Education is at the front line of the disability rights movement. NWDSA/ABI shares and creates best practices for families and educators, and we work continuously towards a more inclusive civil society. Our Kindergarten Inclusion Cohort, regular trainings and All Born (In) Conference are valued resources in our community.
A Hopeful Future is the greatest gift you can give, by supporting a community in which people of all abilities can contribute and thrive. NWDSA is working to build a hopeful future on many fronts, including taking the lead on advocating for more post-secondary options for individuals with disabilities in Oregon and SW Washington. Come build a hopeful future with us!
Giving the Gift of Community is Easy!
Donate Now! www.nwdsa.org/donate
Maximize your donation with your company's matching gift program
Shop through our unique Amazon Smile site -- bookmark this page on your browser! Or join NWDSA Rewards for online shopping deals at hundreds of retailers
Link your Fred Meyer Rewards Card to NWDSA. Our non-profit partner number is 91585
Donate your vehicle through Donate for Charity
Make an in-kind or service donation of IT support, printing services, or raffle/auction items
Sponsor All Born (In) Conference or Portland Metro/SW Washington Buddy Walk Festival
Volunteer! Please share your talents and passions with us! Potential volunteers are asked to have an orientation with NWDSA and sign on to our forward-thinking mission and values statements. Email support@nwdsa.org and let us know how you would like to get involved
---

'K Plan 101' Workshop
Jan 7th, 6 - 8 PM
MESD Building, Portland
Read more


All Born (In) Conference
Cross-Disability Inclusion Conference
Save the date! May 2nd, 2015
Airport Holiday Inn
---
Latest NWDSA News & Articles
Northwest Down Syndrome Association/ABI is incredibly honored and excited to be one of the KPCF Funded Partners.

We are all different races, sizes and ages but a community is one big family.

This is truly a grassroots effort to fund this 4-year old amazing program.
---
Latest Action Alerts
Looking to maximize your investment in NWDSA? Please check if your company offers a corporate match program and/or an employee giving program.

Ethan Saylor was a 26 year old man with Down Syndrome who died in the custody of three off-duty Frederick County Deputy Sheriffs on January 12th, 2013. His family has created a petition calling for an independent investigation.

We are asking schools to comply with the law requiring closure of seclusion cells in our schools.
---
Latest Advocacy News & Articles
The ADA: Moving Forward event at Portland City Hall on July 26, 2013 celebrated the 23rd anniversary of the signing of the Americans with Disabilities Act.

And there it was in black and white: General Education with Special Education Support/Selected. I breathed a sigh of relief.

It's hard to believe that the transition from early childhood education to kindergarten is just around the corner!