Advocacy in Action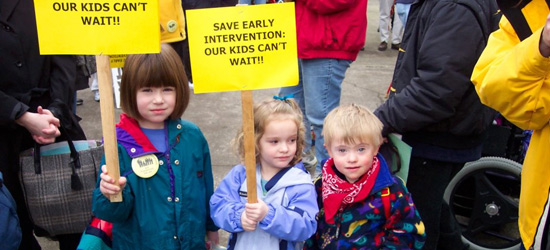 The NWDSA works to create an inclusive community for all children and families. There are many ways that we go about this, but most of them come back to advocacy in one form or another. What does advocacy look like at the NWDSA? Everything from visits to legislators' offices in state and federal capitals to testifying at school board meetings; from disability awareness photo displays to presentations at local universities and at medical Grand Rounds; from empowering parents and professionals at Reciprocal Learning Community events and the All Born "In" conference to a YouTube channel where our Youth Group members express their views on inclusion. We work to empower parents, professionals and individuals with disabilities to be their own best advocates, and to build an interconnected community of support and action.
Executive Director Angela Jarvis-Holland brings a background in social change and community building. Before the birth of her son Daniel, Angela worked both in the UK and here in Portland with disenfranchised groups, running programs that aimed to empower people most affected by a situation to identify their own needs and mobilize to create change, and find solutions appropriate for their circumstances. Angela and the Board and Staff of the NWDSA hold on to this mechanism for social change in all our work. Families are the constant the lives of children with disabilities, and those parents, along with the people with disabilities themselves, are the only real "experts" about their lives and needs. At NWDSA we have built successful, strength based trainings keeping parents in the driving seat.
As an organization we adept at identifying problems, coming up with solutions and implementing plans to address the identified need. From the RLC to the All Born (In) conference, from the All Born (In) photo awareness display to the Kindergarten Inclusion Cohort and accompanying film We All Belong, we have a proven track record for bringing innovative, responsive programs to life. Our staff – and devoted volunteer team – of writers, artists, designers, visionaries and project managers works together to maintain very high-quality materials and programming.
We believe it is vital to celebrate what is working too, and engage in "celebratory advocacy", taking time to recognize and share the competencies of enlightened professionals and visionary parents who are willing to think outside the box when looking for ways to build more inclusive and rich communities and schools. Our work is built on set of values and principles that are strength based and person centered. We work collaboratively with enlightened professional that share our vision and values; these professionals inform our work, but as parents we remain in the driver's seat in all of our projects.
At the NWDSA we choose to position ourselves as part of the social change movement that will create a world that sees the strengths and gifts of every individual. While we work within systems to help them change, we can't always afford to wait until the system catches on and catches up. We are creators of services in our community, not just consumers. If you are interested in joining us in our advocacy work, please take a tour through these pages to see if there is an area of particular interest, and then get in touch, either by filling out our Volunteer Form here or by calling the Resourcefulness Center at (503) 238-0522. Thanks for your interest.
---
Action Alerts
Stay up-to-date on ways you can be part of the change!
Posted on 03/08/2017

On March 6th the American Health Care Act was proposed in the House of Representatives to replace the ACA. This legislation will cut Medicaid and repeal important protections of the ACA.

Posted on 05/20/2015

The U.S. Department of Education and the U.S. Department of Health and Human Services are proposing to release a policy statement on inclusion of young children with disabilities in high-quality inclusive early childhood programs. It is the purpose of this blog to request comments on the proposed statement. Please review the attached draft policy statement and provide comments no later than 6:00pm EDT, Friday, May 22, 2015.

Posted on 11/08/2013

Looking to maximize your investment in NWDSA? Please check if your company offers a corporate match program and/or an employee giving program.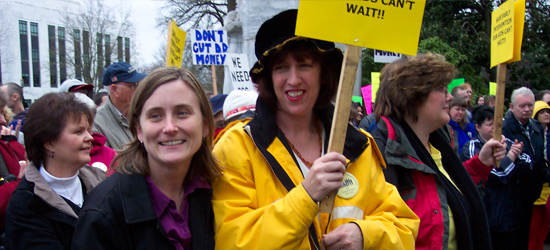 ---
Advocacy News Articles
Posted on 03/08/2017

On March 6th the American Health Care Act was proposed in the House of Representatives to replace the ACA. This legislation will cut Medicaid and repeal important protections of the ACA.

Posted on 09/13/2016

"Going into this camp, I thought social justice was only about helping people who can't help themselves…but I learned that it is so much more. In order to create social justice, we have to start with ourselves." – James, 2016 Social Justice Youth Summer Camp Participant

Posted on 02/02/2016

For the first time in Oregon, individuals with intellectual disabilities will have access to an inclusive postsecondary education at a four-year university, thanks to the efforts of Think College Inclusion Oregon, Northwest Down Syndrome Association/All Born (in), and Portland State University.
---
The Board of Directors of the Northwest Down Syndrome Association does not endorse any candidates. As a group, we serve a very diverse population. Our 600 families represent all political persuasions, and we are united by our love for our children, and our passion and conviction to fight for a more inclusive community.
Intellectual Property Statement: The photos, videos and other content on this page are property of the NWDSA and may not be used without explicit permission from this organization.