Political Advocacy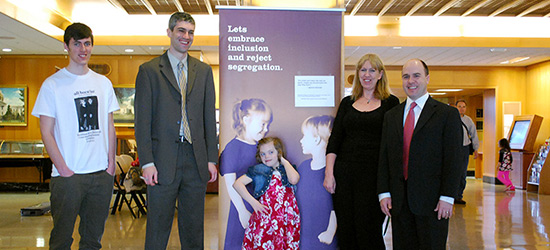 The most effective political advocacy is accomplished with the help of good relationships with policy makers. Building a relationship with your legislator can seem daunting, but lawmakers are people too, and they work for us! Whether they represent you at the local, state or federal level, they have an interest in hearing from you as their constituents, and your stories are incredibly powerful. We encourage you to take the time to get to know your legislators, and to join us in our advocacy in Salem, Olympia and Washington DC.
To find the contact information for your legislators, please click here if you live in Oregon or click here if you live in Washington State.
---
State level Advocacy in Salem and Olympia
Through ongoing communication we have come to be known as an accurate, trusted resources for our legislators. We have traveled to Salem and Olympia many times over the years to testify and meet with legislators, as well as for special events. We stay connected to what is happening to keep track of issues that affect our community, from education to healthcare, from community supports to civil rights, and when action is needed we work to bring the community together to bring our collective voice to the policy makers. We also work with both Oregon Council on Developmental Disabilities and Washington State Developmental Disabilities Council to ensure that we are connected with the policy priorities being addressed statewide. Three NWDSA staff members are graduates of Oregon's Partner's in Policy Making class, and one is currently enrolled in the equivalent training for Washington residents.
Teddy Bear Rally
The Teddy Bear Rally is a great example of a small idea born around the dining room table taking on a life of its own. In 2003, current NWDSA Executive Director Angela Jarvis-Holland was serving as chair of the area Interagency Coordinating Council. In this role she was working with other parent leaders in the Portland Metro Area to mobilize parents in the face of serious reductions in Early Intervention services in Oregon, and together they formed the Multnomah Parent Action Committee (MPAC) The group met at Angela's house to discuss how they could have an impact on lawmakers at the State Capitol in Salem. They decided to deliver a Teddy Bear to every lawmaker, with message, "From a child I love to a child you love—any child could be born with a disability." This "warm fuzzy" idea gave parents new to advocacy an easy way to connect with their lawmakers. Sharon Lewis worked with the Oregon Council on Developmental Disabilities to make the Teddy Bear Rally a statewide effort, and hundreds of people gathered at the Statehouse with their Teddy Bears to advocate for the importance of EI funding.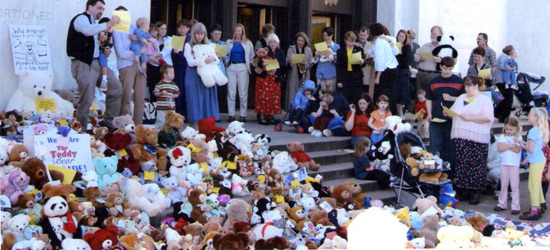 Early Intervention Story Books
In 2003 and again in 2012, we collected family stories about the importance of Early Intervention to share with lawmakers in Salem. For the first book, Angela and other parents from MPAC got a small grant from Multnomah County to support family empowerment. With this grant they were able to book a community room at a McMenamins restaurant and arrange for computers and scribes to help capture families' stories. These books were delivered as part of the Teddy Bear Rally. In 2012, when the State of Oregon once again threatened major cuts to Early Intervention services, the NWDSA rallied families to submit stories of the role of Early Intervention in their families' lives. We published a second booklet of these stories and delivered them to legislators to bring the power of personal stories to bear on their decisions around funding cuts.
Clark County Disability Coalition
The NWDSA is a member of the Clark County Disability Coalition (CCDC), which works to inform Clark County area legislators about issues concerning the disability community. Each election cycle the CCDC organizes a candidates' forum for area legislative seats. The CCDC also participates regularly in Developmental Disability Advocacy Days at the State Capitol in Olympia. In 2011 the CCDC organized a rally in support of Medicaid services in Washington State in the face of threats of major cuts to necessary services (article).
---
Federal level advocacy - Buddy Walk on Washington
The NWDSA is committed to supporting the National Down Syndrome Society's policy team, and had traveled to Washington, DC several times to meet Oregon and Washington legislators to make sure they are aware of issues facing our community. In addition, the NWDSA led a listening session with Congresswoman Cathy McMorris Rodgers in 2007 around the ethics of prenatal testing.