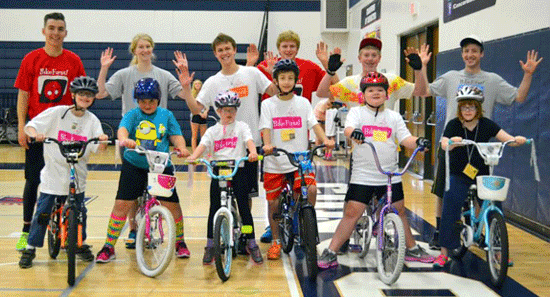 Bike First! Was recently featured on KPTV 12 News. Click here to read the article and watch the video.
---
Register Now for Bike Week 2017
Make 2017 the year your child learns to ride a bicycle! Registration is open for Bike Week, which will take place June 19th thru June 23rd. Register for the full bike camp, or sign your child up for the Quick Start or Refresher Course.
PLEASE NOTE: Due to snow days, Bike Camp may conflict with school in your district. If that is the case, choose session #1 or #5 to avoid scheduling conflicts.
---
Bike Week is a magical experience for everyone. Kids blossom and beam with pride over their new-found skill, volunteers cheer, and parents tear up to see their child take flight, alone, for the first time. Bike First! is open to children 8 years and up; meaning there is no cap on the end age!
People who experience a variety of disabilities have had success at the clinics—some of these conditions include Down syndrome, mild to moderate autism, mild cerebral palsy, visual impairments, extreme fear of falling, fine motor skills, and other developmental delays. 
---

Bike Week 2014 was a great success! NWDSA's Bike First! is proud to promote inclusion by teaching individuals with disabilities the skills needed to ride typical bicycles.
---
"Bike First! is more than a bike camp for disabled children — it's a family, a support network, a cheer leading squad and a one-stop miracle zone. Every participant takes his or her first solo pedal strokes to the sound of thundering applause, and every participant is honored in front of the group in a closing ceremony. It's a time to shine and grow and triumph." Heidi Swift, The Oregonian
"We strongly support the Bike First! mission and congratulate all participants for their efforts in this worthwhile event... we'll be back with our support!" Craig H Dodge, Director/VP, Ideate, Inc.
"As a cyclist, seeing the look on someone's face as they ride a two wheeler for the first time defies words. We all know what a positive addition biking can be to all of our lives, to watch it happen is magical." Dave Guettler, Owner, River City Bicycles
"Being part of Bike First! was a very fulfilling event in my life. It helped open up a new life long activity for these families. It allowed them be included with their peers, promoted a healthy life style, and shared in the simple pleasure of a bike ride." 
Clark Mason, Bike First Volunteer Spotter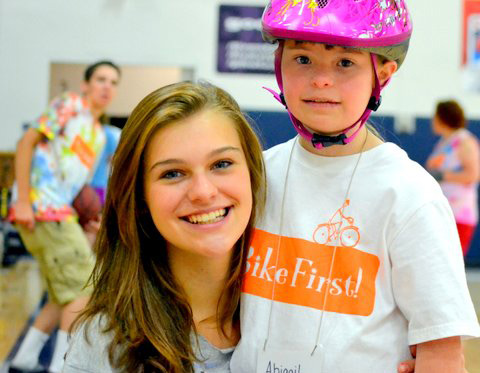 ---
Watch this video with your child