Open Arms Play Groups (birth - 5)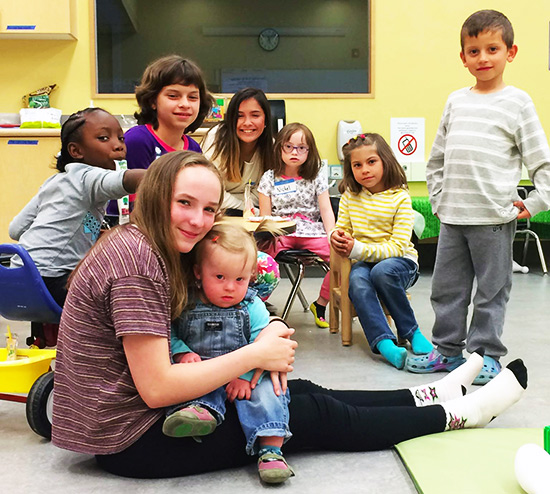 Open Arms Play Group (birth to 5 years old)
Founded in 2004 by Sydney Shook and Jamie Burch with a mini-grant from the NWDSA, Open Arms is a parent-driven playgroup for children age birth through five with disabilities, and their families.
The Vancouver Open Arms playgroup focuses on families with children that experience Down syndrome, while the Portland Open Arms is for families with children of all abilities.
The playgroups give parents the opportunity to connect and learn from each other on a personal level by asking questions, sharing ideas, and learning from others' experiences. Open Arms is a fun place where children can play, snack, learn and grow together. Open Arms' organizing principle is that parents are the experts on and number one advocates for their children. There is no charge, and we welcome all families with kiddos with disabilities and Down syndrome, age 0 to 5. Siblings are welcome.
No Open Arms in August 2016!
Contact:
Mindy Parker · (503) 319-3831 · mparker@nwdsa.org
Para comunicarse en español:
Sheyla Hirshon · (503) 239-1509 · sheylahir@hotmail.com
Maria O'Harra · (971) 570-0942 · moharra@nwdsa.org
Portland Open Arms Play Group

For families with children age birth - 5 with disabilities

Second Tuesday of each month · 10:00 AM - Noon
Earl Boyles Elementary School (new location)
10822 SE Bush St, Portland, OR 97266
[map/driving directions]

Vancouver Open Arms Play Group

For families with children age birth - 5 with Down syndrome

First Sunday of each month · 3:30 - 5:30 PM
Central Park Childcare
2115 East Mcloughlin Blvd, Vancouver WA 98661
[map/driving directions]

---
News & Articles
News: Open Arms Vancouver has a new home
Article: Open Arms on Both Sides of the River
---
The Parents Behind Open Arms