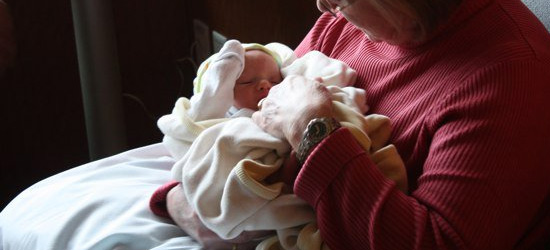 Down syndrome is at the forefront of the massive expansion in technology related to prenatal testing for genetic differences. Since 2007 the NWDSA has been following the trend toward earlier, less invasive prenatal genetic testing for Down syndrome. The testing industry is on the fast track to providing early, minimally invasive testing, but the information being given to parents is not keeping up. As an organization we have collected stories from families that suggest that the medical community does not always do an adequate job of explaining to families the realities of day-to-day life with Down syndrome. Additionally, research by Dr. Brian Skotko and others confirm that information given to parents is often incomplete, or has a bias toward medical information and does not address what life is like for people living with Down syndrome today. For the NWDSA this is not a pro-life or pro-choice issue, but rather, pro-good information; we work to ensure that families faced with a decision are given enough information to make an informed decision.
We believe that parent expertise about the realities of day-to-day life with Down syndrome is a critical part of the equation, and that when information from parent organizations is provided in a respectful and responsible manner, this parent perspective is an appropriate complement to what medical experts can offer. The push for increased testing comes at a time when individuals with Down syndrome have more opportunities for high quality of life than ever before. We see it as an imperative that families who receive a prenatal diagnosis gain access to this information alongside the medical information they get from their doctors.
---
Family Support
The NWDSA offers conversation and information to families who have received a prenatal diagnosis of Down syndrome, who may be grappling with decisions about their pregnancy. We work hard to provide clear, honest information about our experiences raising a child with Down syndrome. We work closely with area genetic counselors to provide families with up-to-date information, and have a reputation as a compassionate, neutral resource for families.
Sometimes we connect with families over the phone, sometimes in person, with or without our children. We work with families to meet their needs and address their unique concerns. We have the ability to connect parents with other families who have experience with specific medical issues, or questions about health insurance and other financial concerns.
"We have always been pleased to have the opportunity to refer our families with children with Down syndrome to the Northwest Down Syndrome Association. As a genetic counselor, I understand that the true experts in living with a person with Down syndrome are the families rather than the health care professionals who can provide medical expertise but not necessarily the practical expertise of parents and siblings." - Pat Himes, MS, CGC Genetic Counselor
---
Medical Outreach, Advocacy & Presentations
The NWDSA works to educate medical providers about the realities of raising a child with Down syndrome. We have presented to health care and social work classes at OHSU, Pacific University, Portland State University, and the University of Portland. We have participated in Grand Rounds at OHSU, and have partnerships with genetic counselors at Kaiser Health Systems, as well as the Providence and Legacy genetic counseling programs.
"I am a prenatal genetic counselor in the Perinatal Center at Oregon Health & Science University. I spend at least half of my time each day speaking with patients about prenatal screening and testing options for Down syndrome. I also spend a considerable amount of time counseling patients who have just received a prenatal diagnosis of Down syndrome. It is imperative that as a medical professional I have access to the most up-to-date information about Down syndrome. It is also crucial that I have resources to offer my patients, including written materials and personal contacts to support them during what can be a confusing and emotional time in their pregnancy.
I have been fortunate enough to have a close working relationship with the Northwest Down Syndrome Association (NWDSA) for the past six years. They have provided my practice with written information for physicians and patients. We have given joint educational presentations to the OHSU Genetics and OHSU Ob/Gyn departments. They have always been available to contact my patients needing support. Without their assistance, I would find myself with outdated information about Down syndrome and limited resources."
Cori Feist, MS, CGC Board Certified Genetic Counselor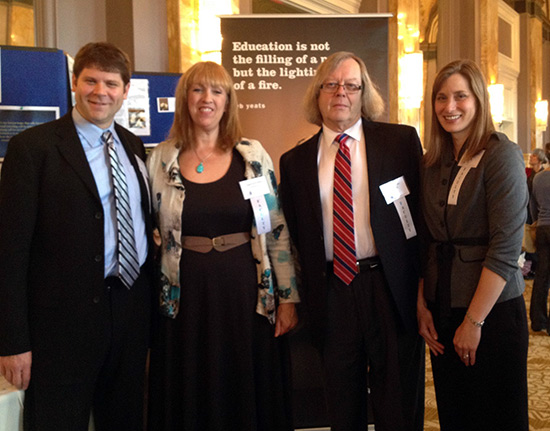 In the spring of 2012 we organized a presentation on the current state of testing and information together with Cori Feist and Gwen Fraley of OHSU. Genetic counselors, doctors, medical ethicists, prenatal test pharmaceutical representatives and other community members attended the presentation, and participated in discussion about the implications of advances in testing technology, and the NW Coalition for Informed Decision Making was launched.
In summer of 2010 we were invited, together with OHSU's Cori Feist, to present a poster on prenatal genetic testing at a medical ethics conference.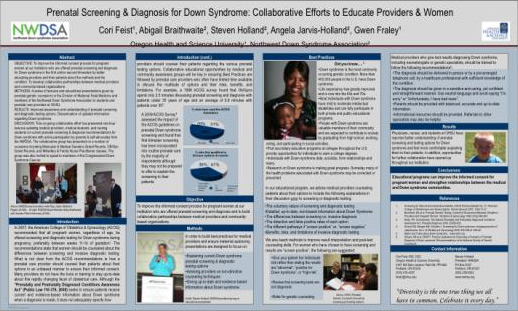 We have conducted listening sessions on the topic with politicians including US Congresswoman Cathy McMorris Rodgers of Spokane, WA, ethicists and others.
---
"Counting Chromosomes & Families' Experiences"
In preparation for our spring of 2012 joint presentation on the implications of advances in testing technology, the NWDSA compiled and published Counting Chromosomes and Families' Experiences, a booklet of over 30 stories from parents about their experience with prenatal and postnatal diagnosis. The stories that families generously shared paint a picture of an inconsistent process, with no apparent best practices for how a doctor or medical provider presents a diagnosis of Down syndrome, or standards for follow-up care. Some parents reported positive and supportive interactions, but many reported feeling that the information they received was inadequate and outdated, often with a bias towards termination of a pregnancy. Below are a few samples from the booklet; if you are interested in receiving a copy, please contact the NWDSA Resourcefulness Center at (503) 238-0522.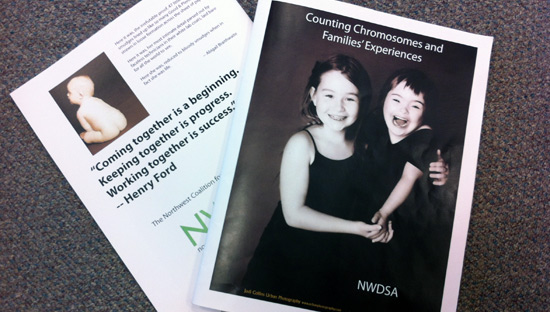 "It is my hope that obstetricians and pediatricians could present parents at the very least with a white sheet on the local, state, and national Down syndrome organizations. It would be ideal if the expectant parents could be given some of the wonderful handouts/books from the Down syndrome organizations. Just something, I plead so we don't leave empty handed." - Anonymous mom
"I am very upset with the lack of information that is given when a doctor suspects Down syndrome, especially with what I know now. I felt that I was in the dark and I happened across the National Down Syndrome Association doing an internet search which led me to the NWDSA and the rest is history." - Anonymous mom
"Being prepared is helpful but only if the information you have is accurate. We had to do our own searching and digging to find that. None of it came from the testing centers. - Anonymous parent
---
Links & Resources
Literature review by Abigail R. Coatney, Portland State University graduate, in collaboration with NWDSA, examining attitudes and communications from the medical community towards parents in regards to a prenatal diagnosis

The Joseph P. Kennedy, Jr. Foundation's "Understanding a Down Syndrome Diagnosis" is an accurate, balanced, and up-to-date booklet for use when delivering a diagnosis of Down syndrome and is part of the National Center for Prenatal and Postnatal Down Syndrome Resources at the University of Kentucky's Human Development Institute (HDI). The booklet is the only prenatal resource to have been reviewed by representatives of the national medical and Down syndrome organizations and is available in both print and digital formats. This book is available in both English and Spanish.

Provides information to birth families who may be seeking alternatives to parenting as they prepare for the arrival of their child. Making an adoption plan for a child with Down syndrome is a loving choice and can be the right choice for some families.

If you know you are continuing your pregnancy, is a great resource to connect you with other families who have been down the same path and can support you throughout your pregnancy.

A series of blog posts on the subject of prenatal testing.

NWDSA Executive Director Angela Jarvis-Holland, along with Brian Skotko and self-advocate Karen Gaffney, appeared on OPB's radio program "Think Out Loud" on World Down Syndrome Day, March 21st, to speak about "living with Down syndrome".

An article by Abby Braithwaite, Special to The Washington Post, Tuesday, April 3, 2007

Dr. Brian Skotko is a Board-certified medical geneticist and Co-Director of the Down Syndrome Program at Massachusetts General Hospital. His 2006 study revealed troubling lack of consistency and neutrality in the information being given to parents, prompting the NWDSA to commission a literature review from Portland State University to look at the attitudes around Down syndrome and genetic testing in medical, social, and family journals. Visit Dr. Skotko's website for more articles, studies, and publications.
---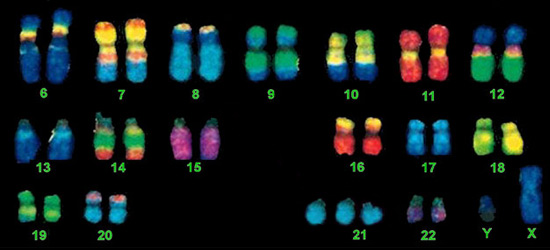 ---
Genetic Testing News & Articles
---
History / Archive
In February of 2007, the American Academy of Obstetricians and Gynecologists issued a recommendation to make prenatal genetic testing universal for all pregnant women, not just those over 35. The explicit reason for testing is to give expectant parents more information about potential complications that might arise in a pregnancy, and to give them information to prepare for the birth of a child with Down syndrome or other genetic abnormality. The implicit reason for testing -- and for increasingly early and non-invasive testing -- is to give parents the opportunity to end their pregnancy before it's "too late". There is evidence to suggest that between 70 and 90 percent of parents given a prenatal diagnosis opt to have an abortion. Current tests provide women with the opportunity to receive a diagnosis in the first trimester of pregnancy, bringing a greater sense of urgency to the conversation.
Dr. Brian Skotko published a study in 2006 that revealed troubling lack of consistency and neutrality in the information being given to parents. This study further exposed the lack of protocols around disseminating information to parents. It also demonstrated that many medical professionals do not offer current information on the lives and potential of people with Down syndrome when they are sharing test results with parents.
After reading this study, the NWDSA Board of Directors began to look into the literature around prenatal genetic testing, and commissioned a literature review concerning the attitudes and communications from the medical community towards parents in regards to a prenatal diagnosis from Portland State University graduate student Abigail R. Coatney. Click here to download the review (PDF) This review confirmed that many medical professionals are not equipped to offer parents the best information. Since that time, the NWDSA has developed trainings for medical professionals to help provide them with better information to help their patients. These trainings have been conducted at Grand Rounds at OHSU, and are available to other area hospitals. We have worked closely with the Genetic Counseling department at OHSU to ensure that trainings provide a balanced presentation of medical and social information.
On the national level, the NWDSA has been active in advocating for the Kennedy Brownback Prenatally and Postnatally Diagnosed Conditions Act that was signed into law in 2008 requiring that medical professionals provide families with complete and up to date information when giving a diagnosis. This law passed in a bi-partisan effort and endorsed by NARAL Pro-Choice America, is an important step in ensuring that families have the opportunity to make an informed choice. The NWDSA has worked closely with Congresswoman Cathy McMorris Rodgers, co-founder for the Congressional Down Syndrome Caucus in Washington, DC. Board members have taken several trips to Washington, DC to advocate on the national level, and prepared a listening session for Congresswoman McMorris Rodgers on the ethical considerations around genetic testing. NWDSA executive director Angela Jarvis-Holland is active in many national-level conversations.
As parents of children with Down syndrome, the Board of Directors of the NWDSA feels strongly that in order to achieve our mission of creating a "loving and inclusive community celebrating every person with Down syndrome," it is essential that the medical and lay community be provided the best, most current information about Down syndrome.
All too often, parents who have received a prenatal diagnosis relate experiences of receiving out-dated, negative information from their doctors, with a strong implied bias toward terminating their pregnancies. Some families fortunately do have more positive experiences, and we hold on to these stories as well, to help us create a model of what does work for families faced with difficult information and choices.
The information currently being given to many parents is at odds with the growing awareness about the potential of our children. Life expectancy, improvements in heart surgery, inclusion in the community and higher expectations mean we have much to look forward to for the average child with Down syndrome. The push for increased testing comes at a time when individuals with Down syndrome have more opportunities for high quality of life than ever before. We see it as an imperative that families who receive a prenatal diagnosis gain access to this information alongside the medical information they get from their doctors.
All of this reveals a large training need for hospitals and medical providers. There is an evident persistence of prejudice and lack of up-to-date information within the medical community. The increase in genetic testing represents a huge ethical and training issue for hospitals; how in those ten-minute sessions can a parent embrace and understand new and critical information? How do we as a parent group with a distinct knowledge base -- the lives of our children -- support doctors and nurses as they grapple with the new burdens brought on by increased testing? We see an opportunity to partner with the medical community to help ensure that the ethical and quality of life issues are addressed along with the medical issues in this conversation.
We aim to offer full, informed choice to parents faced with a prenatal diagnosis. We do not have a profile as pro-life or pro-choice; we are a very diverse community and there are differences of opinions between us on some of these issues. Where we agree is that current information is often poor, uncoordinated and resources are lacking. Testing is an expanding industry and more groups will find this becoming their issue in the next few years, as scientist seek genetic markers for a growing array of genetic differences.
The NWDSA board has made the genetic testing issue a top priority on our agenda for the past several years. There is much more to do, and we are working to grow the connections and skills to do this work. We have made connections with policy makers at the state and national levels. We work closely with genetic counselors, and we have presented at grand rounds. We have developed awareness displays and a calendar that show the beauty and potential of our children, and created a book of stories outlining families' experiences around diagnosis. We continue to work closely with area genetic counselors to support families who have received a prenatal diagnosis. If you are interested in joining us in this work, whether you are a parent or a medical provider, please contact Angela Jarvis-Holland at ajarvisholland@nwdsa.org or (503) 238-0522.