Registration is live for the 17th Annual Official Portland Metro & SW Washington Buddy Walk® Festival - Sat. Sept. 19, 2015, 10 AM - 1 PM
Registration fee: $14 Adult, $7 Child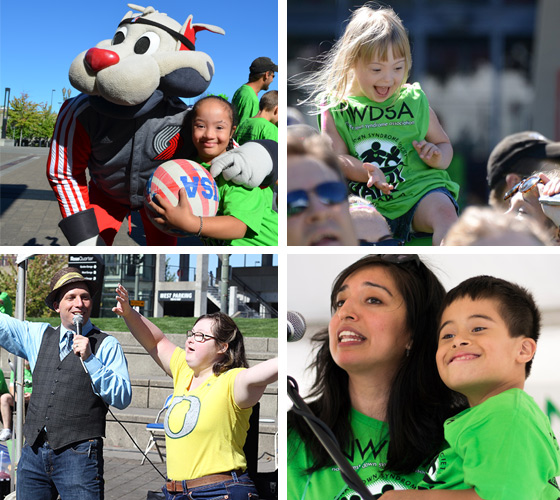 ---
We are now accepting applications for the 2015/2016 Kindergarten Inclusion Cohort.
We are looking for parents/guardians who have a child experiencing developmental disability who will be starting kindergarten in 2016 and live in the Portland Metro area or Southwest Washington.
---
The NWDSA has been a parent-driven family support network since 1997. The NWDSA's mission is to create and nurture a loving and inclusive community celebrating every person with a disability, including Down syndrome.
The NWDSA will accomplish this mission by empowering and supporting families and individuals who have been touched by Down syndrome. We will work to increase education, promote public understanding and acceptance, work toward full inclusion, and defend the civil rights of individuals with Down syndrome. Our vision also embraces professionals and the cross disability community. We believe that relationships are the cornerstones of our organization and that they should be both honored and nurtured.
The NWDSA mission and values are the north star of our organization, and guide us in our work to build a community of informed, empowered parents.
While our roots are as a Down syndrome organization, our work around inclusive schools and communities embraces all learners. In 2005, we started our All Born (In) Cross Disability work.
---
Latest NWDSA News & Articles
What if you have a child with disabilities who may lack the confidence, balance, and independence to hop on a bike and pedal away? That's where NWDSA's Bike First summer clinic comes in.

In the end Down syndrome doesn't define our daughter nor does it define us as parents.

Northwest Down Syndrome Association/ABI is incredibly honored and excited to be one of the KPCF Funded Partners.
---
Latest Action Alerts
The U.S. Department of Education and the U.S. Department of Health and Human Services are proposing to release a policy statement on inclusion of young children with disabilities in high-quality inclusive early childhood programs. It is the purpose of this blog to request comments on the proposed statement. Please review the attached draft policy statement and provide comments no later than 6:00pm EDT, Friday, May 22, 2015.

Looking to maximize your investment in NWDSA? Please check if your company offers a corporate match program and/or an employee giving program.

Ethan Saylor was a 26 year old man with Down Syndrome who died in the custody of three off-duty Frederick County Deputy Sheriffs on January 12th, 2013. His family has created a petition calling for an independent investigation.
---
Latest Advocacy News & Articles
Reach 2020 would shift resources to integrate students (Portland Tribune)

When she was just 11, Katie said to her mom over breakfast one morning, "Mom, I want to go to high school, then college, get a job, and have a wedding."

The ADA: Moving Forward event at Portland City Hall on July 26, 2013 celebrated the 23rd anniversary of the signing of the Americans with Disabilities Act.