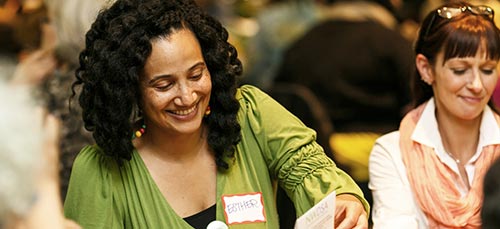 All Born (in) 2016 Cross-Disability Best Practices Inclusion Conference
Saturday, April 23rd, 2016 • Holiday Inn Portland Airport
Featuring 35 sessions for parents, teachers, and professionals. This year's keynote speakers are Keith Jones, musician and self-advocate, and Dr. Richard Villa, inclusive education advocate.
---

Bike Camp 2016 is full but we still have space in our Quick Start/Refresher Course
Bike First! is proud to promote inclusion by teaching individuals with disabilities the skills needed to ride typical bicycles.
Read more about Bike Week | Learn How to Register for Quick Start/Refresher Course
---
Welcome to the Northwest Down Syndrome Association
The NWDSA has been a parent-driven family support network since 1997. The NWDSA's mission is to create and nurture a loving and inclusive community celebrating every person with a disability including Down syndrome.
The NWDSA/ABI will accomplish this mission by empowering and supporting families and individuals who have been touched by developmental disability. Together with our cross-disability sister project, All Born (In), founded in 2006, we will work to increase education, promote public understanding and acceptance, work toward full inclusion, and defend the civil rights of individuals with Down syndrome. Our vision also embraces professionals and the cross-disability community. Our statement of values is the core of our organization and the basis for how we make decisions to support our mission.
We believe that relationships are the cornerstones of our organization and that they should be both honored and nurtured.
---
---
Latest NWDSA News & Articles
ABI is not just about schools, about Special Ed, about getting my kid through school and helping other parents do the same. It's about the long haul, and about building communities that understand that All Means All, that when we take the time to truly embrace and celebrate our differences, we will be the best world

Edie realized that in 1976, society didn't have much space for a child with Down syndrome, and she was appalled to realize how poorly her son and his peers could be treated, how low expectations were, and how few opportunities there were for him to learn and thrive. Things were going to be different in the Brown family, and so began a long life of advocacy.

What if you have a child with disabilities who may lack the confidence, balance, and independence to hop on a bike and pedal away? That's where NWDSA's Bike First summer clinic comes in.
---
Latest Action Alerts
The U.S. Department of Education and the U.S. Department of Health and Human Services are proposing to release a policy statement on inclusion of young children with disabilities in high-quality inclusive early childhood programs. It is the purpose of this blog to request comments on the proposed statement. Please review the attached draft policy statement and provide comments no later than 6:00pm EDT, Friday, May 22, 2015.

Looking to maximize your investment in NWDSA? Please check if your company offers a corporate match program and/or an employee giving program.

Ethan Saylor was a 26 year old man with Down Syndrome who died in the custody of three off-duty Frederick County Deputy Sheriffs on January 12th, 2013. His family has created a petition calling for an independent investigation.
---
Latest Advocacy News & Articles
For the first time in Oregon, individuals with intellectual disabilities will have access to an inclusive postsecondary education at a four-year university, thanks to the efforts of Think College Inclusion Oregon, Northwest Down Syndrome Association/All Born (in), and Portland State University.

In January 2012, attorneys from DRO filed a class-action lawsuit against the state of Oregon, contending that its use of "sheltered workshops" violates the Americans with Disabilities Act by segregating people with disabilities from the workforce.

Reach 2020 would shift resources to integrate students (Portland Tribune)